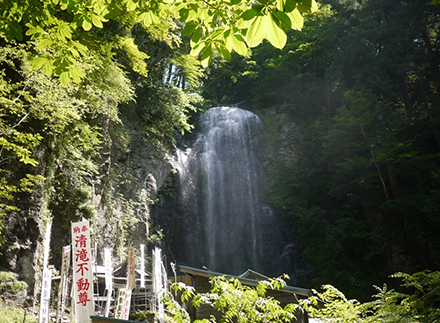 Story
Kiyotaki Falls: In the Edo period, worshipers were allowed to climb Mt. Ontake after making ablutions in the falls. Kiyotaki Falls also came to be widely regarded as a spiritual place and attracted more visitors to the Kiso Valley.

Shintaki Falls: As is the case with Kiyotaki, Shintaki Falls was the place where Ontake holy men disciplined themselves, and it attracted more visitors to the Kiso Valley. There is a small rock shrine behind the waterfall. You can see the waterfall from behind, so the waterfall is also called Uramitaki (waterfall seen from behind).
Overview
These waterfalls are known as places where Ontake worshipers cleansed their bodies. Even now you can see followers training under the waterfall.
Worshipers have conducted this form of religious training since the Edo period. The practice is called Shojinkessai (purifying oneself religiously).
Points of Interest
At Shintaki Falls, Acala, the God of Fire in Buddhism, and the Eight Dragon Kings are enshrined. It is known as a place where Ontake holy men train. You can walk behind the waterfall and see it from that side, so the waterfall is also called Uramitaki. The water flows calmly and creates a mysterious atmosphere.
Interview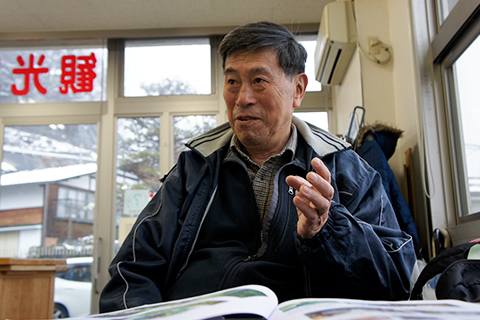 We interviewed Mr. Isao Nishimura. He is a tourist guide for Mt. Ontake.

"The shapes of Kiyotaki and Shintaki Falls are unique, as they have sheet joints, which are formed when volcanic rocks cool down and crack. Everybody is surprised at the shapes of the waterfalls and asks me how the rocks came to be that way. The scenery is a mix of waterfalls, rocks, and woods. It is quite a striking sight," he said.)
Mr. Nishimura works as a guide for Kisoji and an instructor in long-term nature experience programs for youth. He showed us some of the materials that he made by himself.

"By the way, shall we go see the waterfalls?" he said.

We decided to go see the stunning view with Mr. Nishimura.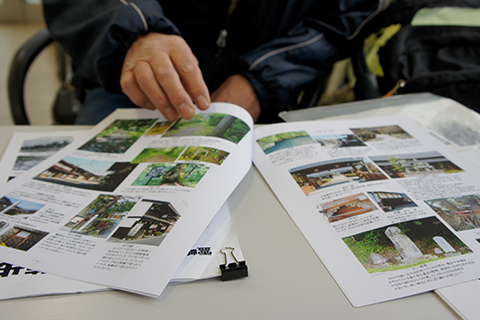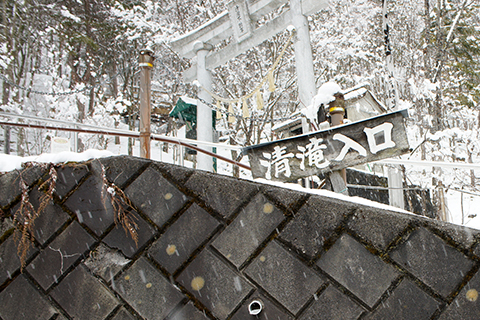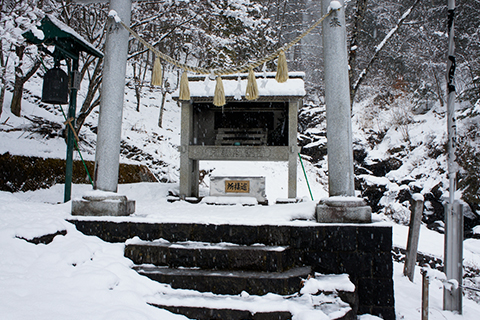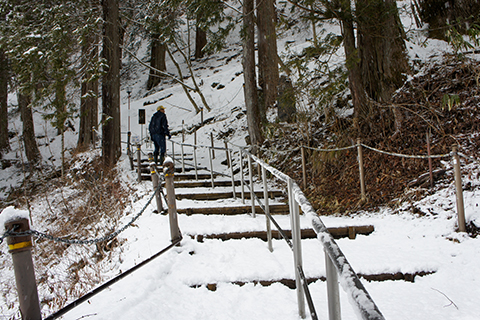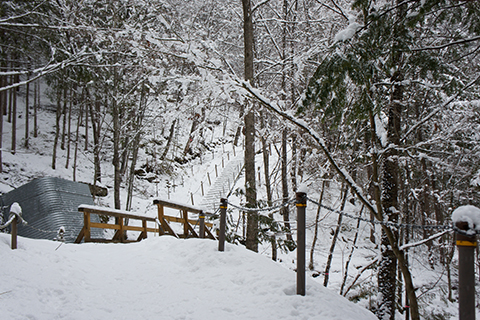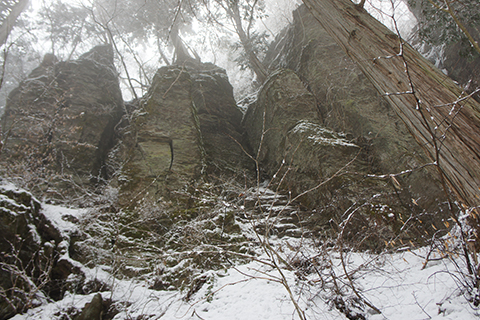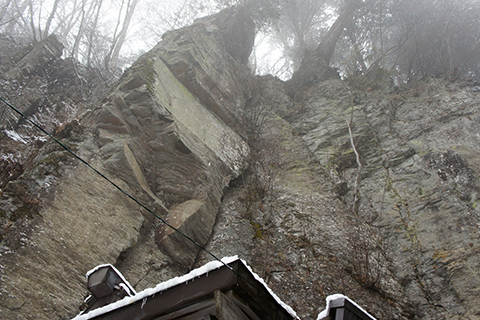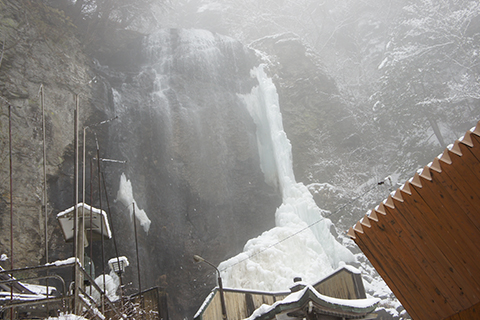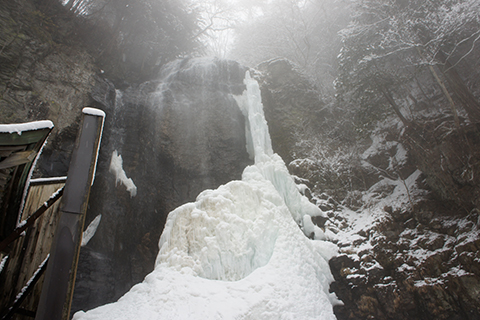 We reached Shintaki at last. The scene made such an impact on me that I had no words. And I wondered what would become of a person if he/she gets hit with water from that height. I felt that this is just the place for ascetic training.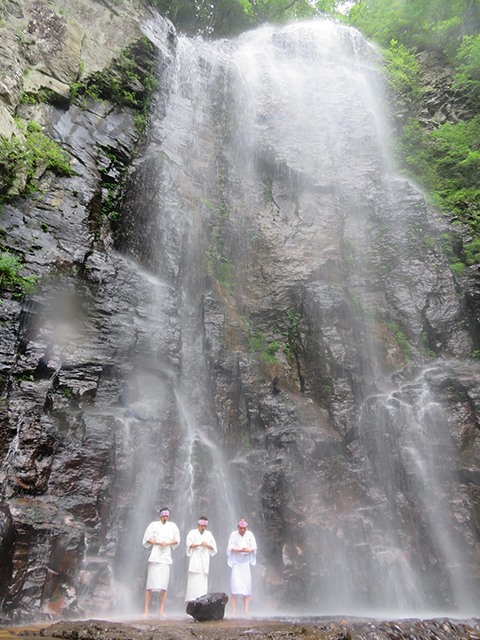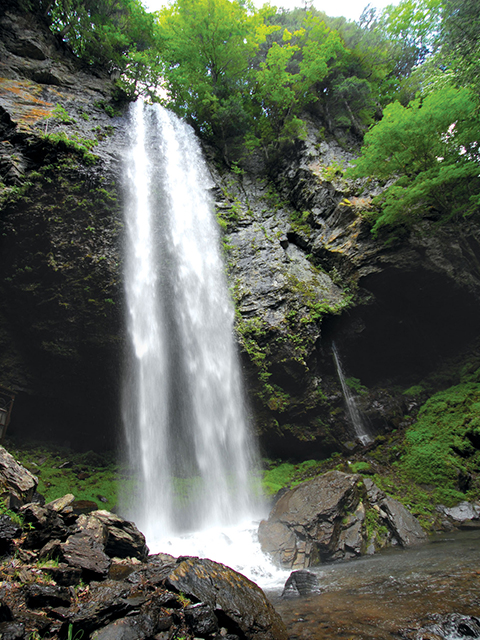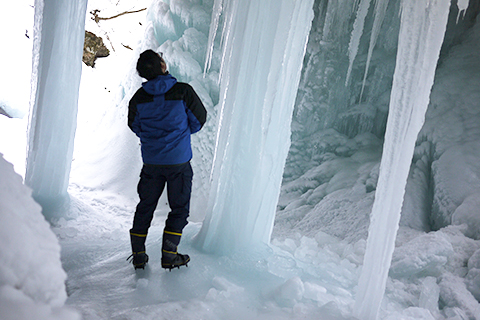 As we couldn't go to Shintaki that day because of deep snow, he showed us the photo above.
You can see Shintaki from behind. In winter, the frozen waterfall offers such a mystical view from behind.
We saw wonderous, picturesque scenery with our professional guide who cherishes the whole Kiso Valley.
Attractions
The best time to see the fall foliage is mid-October through early November. The waterfalls start to freeze up in late December, and you can see the bluish white ice pillars January through February.
Access
From the closest station & interchange
From Kisofukushima Station on the JR Chuo Line
50 minutes by car, taxi, or bus
From the Ina Interchange on the Chuo Expressway
70 minutes by car
Address
Kiyotaki Falls
Otaki Village, Kiso-gun, Nagano Prefecture
Shintaki Falls
Otaki Village, Kiso-gun, Nagano Prefecture